The page contains current and past issues of the Grate Insights magazine by Stormtech.
Choose an issue to download the PDF.
Innovation, Aesthetics & Performance - Issue 2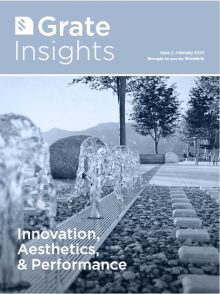 2019 has been the year that quality has come under the spotlight. For several years, we've noticed a growing disconnect in the relationship between builder, developer and architect. A worrying result of this disconnect is that products are increasingly being substituted – dramatically – for a lesser or non-equivalent alternative, often unbeknown to the developer.
Download This Issue
Innovation, Aesthetics & Performance - Issue 1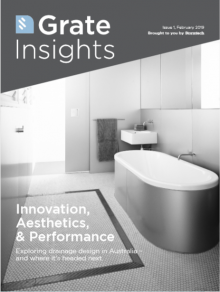 Has there ever been a more exciting time for Australian design and construction? As the quantity – and quality – of construction projects across the country continues to rise, so do levels of competition and innovation. Over the past year we've been astounded by the creativity and quality that we've seen in our clients' projects, and can't wait to see how these develop in future. Moving forward, we're also keen to strengthen our industry ties and help advance the drainage sector as a whole.
Download This Issue
Looking for inspiration? Find the right product for your application ›